Tracks NA - Premium Unmanned Vehicles
Experience The Difference
Tracks North America offers premier unmanned vehicles with fork-lift capabilities. Designed with safety and efficiency in mind, Tracks NA offers a remote-controlled solution superior to traditional ride-on vehicles. Experience the difference with our all-terrain tracked platform and universal skid-steer attachment plate. Whether it's tilling on the farm or commercial construction projects, Tracks NA vehicles are your personal workhorse. Accomplish more while doing less with Tracks North America vehicles.
Here at Tracks North America, we believe less is more. Our simple design provides multipurpose solutions, serves various industries, and has endless capabilities. Compact, powerful, and built for any task. A true master of versatility.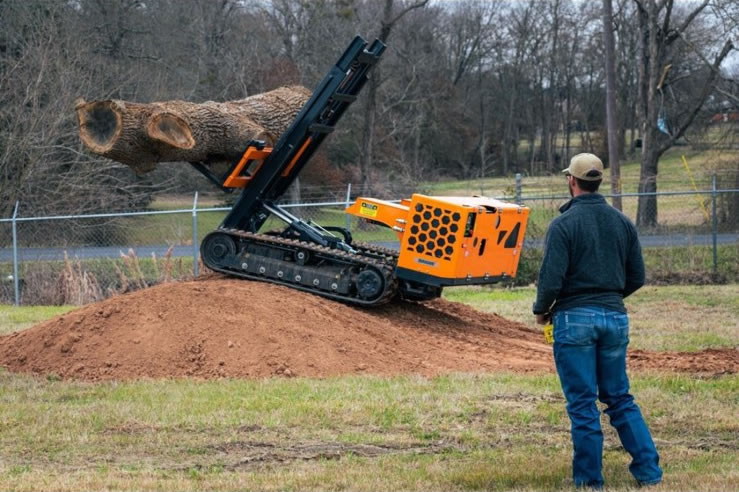 Construction
Reduce project site clutter, transportation space, and overhead cost with one machine. Most importantly, keep your crew a safe distance away from dangerous debris or unseen materials with the wireless remote control range of 1,000 ft. Take your construction projects to the next level by adding our machine and one of these suggested attachments.
Agriculture
When it comes to agriculture, there's always work to be done. Our unmanned vehicles are built to tackle every task. The hardworking men, women, and families within the agricultural community were the original inspiration for our machines: Simply put, we wanted to provide a vehicle that matched their relentless work ethic.
Timber & Forestry
Easily clear brush, remove, cut, or transport trees. Our Tracks NA vehicle is your timber and forestry sidekick. Safely remove large trees or hard to reach limbs. Depending on the task, easily trade out attachments with the universal skid-steer attachment plate.
Vehicle Options
We offer two different vehicle lines: The Wolverine and the MPEP. Our Wolverine line is built to serve our civilian community, while the MPEP (Multi-Purpose Expeditionary Platform) line serves our Armed Forces and government community. Sizing, features, pricing, and capabilities vary based upon the vehicle.