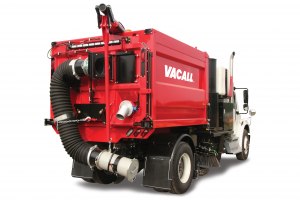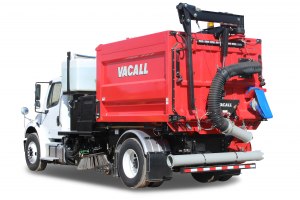 The VACALL™ AllSweep street and runway sweeper is also designed for catch basin cleaning and leaf collection.
Dynamic, multi-purpose VACALL vacuum street sweepers are set apart from routine street sweepers by high versatility, high performance and high value. AllSweep models are exceptionally versatile, handling the work of many machines to clean out catch basins as well as parking venues and airport runways.
AllSweep's single or dual sweep system creates a sweep area that is wider than the vehicle itself – giving you the widest sweep path anywhere. Plus, AllSweep uses the chassis engine as a single power source, reducing fuel consumption and emissions as well as routine engine service cost and downtime.
An independent analysis by a certified test lab shows VACALL AllSweep models can deliver a maximum airflow of 31,000CFM — the best in the industry.
Features and Benefits
Single or dual system creates a sweep area wider than the vehicle width
AllSmartFlow™ intelligent CAN bus control system improves     operating efficiency
Optional catch basin cleaner assembly stows out of the way against tailgate
Reinforced steel debris tanks withstand bricks, rocks and asphalt millings
Optional stainless steel debris tanks carry a lifetime warranty
Tailgate opens, closes and locks hydraulically for fast debris dumping
New hydrostatic drive system provides constant vacuum, water spraying and variable drive speeds while maintaining a lower constant engine speed
Large water system requires less frequent re-filling and delivers longer run times
Control valve compartment provides protection from weather and threat of damage
New silencer designed for quieter operation
PDF BROCHURE: Click [HERE] for a downloadable PDF.
PDF SPECIFICATIONS: Click [HERE] for a downloadable PDF.