Hydroexcavation uses a pressurized water jet (up to 20 gpm @ 3000 psi) and high-capacity vacuum (up to 2,800 CFM @ 27″ Hg) to break up soil in a localized work area and then remove it to a truck-mounted debris tank.
With no mechanical shoveling, hydroexcavation is safer to use around installed utilities, minimizing risk of damage to existing buried services like pipelines. Hydroexcavation with trucks from ERS, such as our VACALL™ AllExcavate vehicles, is fast and precise with features like rear-mounted booms, debris tanks from 10 to 15 yards and water capacities to 1500 gallons.
GapVax™ Hydro Excavator Vehicles

The new GapVax™ Hydro Excavator units, are equipped with water capacity options of 400, 550, 750, 1000 or 1200 gallon tanks.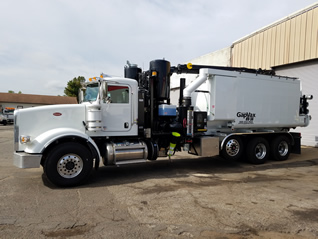 GapVax HV 56
offers a positive displacement pump; 5,250 CFM, 28″ hg, 500 HP transfer case with air-shaft engagement.
PDF BROCHURE: Click [HERE] for a downloadable PDF.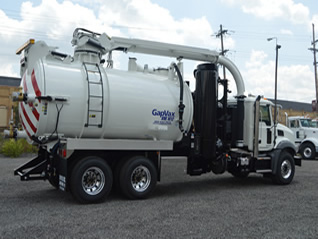 GapVax HV High Dump Cat Air Vaccuum
offers a 17 cubic yard debris body made from 1/4″ EXTEN stell. Full opening tailgate with field-adjustable hing and dual cylinders.