Hydroexcavation uses pressurized water jet and high-capacity vacuum to break up soil in a localized work area and then remove it to a truck-mounted debris tank.
With no mechanical shoveling, hydroexcavation is safer to use around installed utilities, minimizing risk of damage to existing buried services like pipelines. Hydroexcavation with trucks from ERS, such as our VACALL™ AllExcavate vehicles, is fast and precise with features like rear-mounted booms, debris tanks from 10 to 15 yards and water capacities to 1500 gallons.
GapVax® Hydro Excavators

The GapVax® Hydro Excavators are equipped with water capacity options of 400, 550, 750, 1000 or 1200 gallon tanks.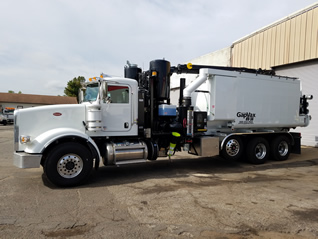 GapVax® HV-56
offers a 5,250 CFM, 28″ Hg positive displacement vacuum pump (or PD blower); 15 cubic yard debris body and more.
PDF BROCHURE: Click [HERE] for a downloadable PDF.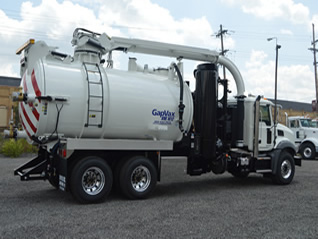 GapVax® VHE Series
offers a 3,500 CFM, 16″ Hg positive displacement vacuum pump (or PD blower); 4-15 cubic yard debris body options; front mount telescoping boom with 26′ reach and more.
PDF BROCHURE: Click [HERE] for a downloadable PDF.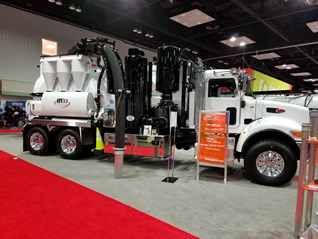 GapVax HV33 HydroVax
Is the newest hydro excavator to join the GapVax HV Series. Built upon the GapVax's proven wet / dry filtration system, this unit offers a new 4000 CFM high vac blower for quieter operation, smaller water tank and debris body.
PDF BROCHURE: Click [HERE] for a downloadable PDF.
Red Dawg™ family of sewer cleaning tools!
The lastest in development in the nozzle market is available today to add to your ERS Rental Truck.
This is the absolute simplest and easiest jet camera to operate in the industry. This system enables operators to get as much as 10,000 ft./day that can be used to meet your municipalities CMOM requirements. The 1100 lumens of sealed LED light is more than enough to light up lines up to 14″. GoPro™ handle the camera.
Carbon Steel construction makes this nozzle series a must have for any cost-minded purchasing decisions. We cut all the fat and left these tools with the most effective tool for the money. Available for flows from 18 to 80 GPM
Sand and Sludge are no match for this solid aluminum nozzle. A forward-facing jet and 8-Rear facing jets (@15 Deg.) ensure a solid pattern behind this nozzle for breaking up debris and sending it downstream. Also, the red anodized finish lets you know this nozzle means business. Any crew looking for an ideal nozzle to tackle lines heavy with debris.
This nozzle excels at preventative cleaning and mainline work. There is enough weight to keep this nozzle down in the debris where the cleaning is needed most.
Stoppage beware, this contoured nozzles can punch a hole in any organic blockage you throw at it. The heat-treated body keeps wear and tear to aminimum. Examined flow design keeps this nozzle pulling hard without taking away from the forward utility.
Pushing blockages away from the homeowners property and into the mainline is what this nozzle was born to do. No rear thrust keeps this needed tool from adding fuel to the fire. 7 forward-facing jets ensure that there is only one direction for debris directly in-front
Heavy cleaning design features keep this nozzle where it needs to be. The rear features 10-alternating angled jets for a mixed effort of cleaning and thrust. This is sure to be a standard issue nozzle for most of the combination cleaners out in the field.
Let this be your everyday cleaning nozzle. Its 12 dual-angled rear jets provide Thrust and cleaning angles to make this a dual purpose nozzle as well. The 2.9" diameter body provides a small enough footprint to work in lines as small as 6", but can work on jetters up to 80 GPM.
Our Red Dawg Button nozzle is designed for use in small diameter pipes such as residential cleanouts. The 6-30 degree rear facing jets with replaceable inserts provide plenty of cleaning power and thrust for clearing blockages.
This aggressive rotating nozzle has 4 focused jets that are counter-rotating. We jet them with counter-thrust to keep the jets focused on the pipe walls. Coated with our Black Oxide plating to help prevent any corrosion issues down the road. Grease and scale are a great use for this style nozzle.
A new revision gives this nozzle new life. This is a great tool for all purposes, general cleaning, stoppages (grease & roots). The 6 rear 30-degree (8-jets for 1″ body) provide thrust and pipe wall scouring force to propel this nozzle up the line. The rear magic is the rotating front jet. At about 1,000 #'s the insert begins to rotate and break up anything in its path.
The Hot Dawg has a design based on industry-favorite elements that make this a must have for every operator. It produces a large amount of thrust coupled with an ideal weight to make this a go-to nozzle. Constructed from heat-treated alloy steel to ensure a long career on any unit.